Help protect endangered species and assist conserving and restoring marine environment!
Fast growing tourism is a serious threat for the Dominican Republic.´s marine flora and fauna. Therefore become part of a development program funded by the United Nations and help to protect the beautiful nature of the Samaná province! Samaná Bay is not only a significant breeding ground and nursery area for humpback whales from all over the North Atlantic; it is also the most important multi-species fishing ground in the Dominican Republic, a growing international tourist destination, and a commercial port. While tourism is an important source of economic activity and financial income, its impact on sensitive coastal-marine ecosystems is of particular concern.
watch interview of a former conservation volunteer
A major portion of environmental degradation in coastal areas is attributed to the establishment of large-scale hotel developments in areas of high biodiversity, unregulated tour activities that put at risk reproduction sites for whales and turtles, as well as mangrove deforestation and coral reef damage from diving and boat tours anchors, which in turn decreases the resilience of these coastal marine ecosystems and increases their vulnerability to tropical storms.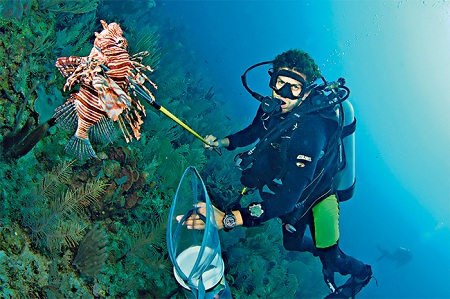 Suitable for Spanish language beginners!
Assist with marine based environmental restoration activities, species protection & monitoring activities as well as invasive-species control programs. This is a great opportunity to contribute in a meaningful way to the protection of the marine environment while at the same time becoming a passionate qualified marine ecology diver. Your professional training starts at zero and will lead you through three complete levels of qualification (basic, advanced and speciality training)
Our program is part of an effort to tackle an invasive species that has been identified as one of the world's greatest conservation issues. Destructive lionfish are invading coral reefs in the Americas. Since lionfish (Pterois volitans) first appeared on the eastern seaboard of the United States in the 1980s, the voracious predators have gobbled up coral-reef fish from North Carolina to Venezuela. Officials responsible for protecting reefs have struggled to find ways to control populations and fishing competitions can help to keep the problem species in check.
Thanks to this exciting internship you'll gain valuable and life-changing experiences while at the same time develop specialty diving skills! Even if you do not have previous diving experience, you will learn everything in this 12 weeks marine ecology diver internship while protecting marine flora and fauna. At the end of your stay you walk away with your professional diving certification and amazing experiences in one of the worlds most beautiful marine environment! (Spanish is optional, English is necessary).
Internship activities can include but are not limited to
• Certified diving training as part of a 12 weeks speciality diver internship
• Day to day work at the diving station includes helping with maintaining and preparing diving equipment, assisting with logistics and office work, give a hand with installing a pirate museum, assisting instructors with attending diving students and clients
• Gain the following certifications: Open Water, Advanced Diving and one speciality like: Rescue Diver, Marine Ecology or Hunter/Collector Diver
• Assist actively with the protection and restoration of coral reefs and the protection of endemic fishes as well as the control of invasive species
• Assist with restoring and maintaining coral reefs, mangroves, beaches and coastal areas

Requirements
No previous experiences required to participate in the program. A typical Endangered Marine Species Protection and Conservation intern should be interested in protecting flora and fauna, marine-life and diving. He or she needs to be of good health, enthusiastic, proactive, willing to learn and ready for a challenge. Responsibility, commitment, patience and perseverance are among significant qualities.
Extra donation required
In order to cover extra costs involved we require an extra donation of € 480,- for the Marine Conservation Internship. This donation will mainly be spent to support our Endangered Species Program and also to cover extra spending incurred for didactic materials and logistics.
Language skills: conversational English skills are required, Spanish beginner, additional languages welcome
Volunteer placement or internship: exclusively as Internship available
Time Commitment: A minimum time commitment of 12 weeks is required (can be reduced to 6 weeks only for qualified, advanced divers)
Placement Locations: Las Terrenas
watch interview with the director of the United Nations sponsored conservation program